Room for every possibility.
For daily drives and extraordinary adventures, the EQB opens a new chapter in electric driving.
The electrification of luxury takes another stride forward.
With the EQB, the Mercedes-EQ lineup welcomes an all-electric compact SUV that seats up to seven. It's efficient, versatile and accessible - the kind of vehicle you turn to when you've got plenty going on.
Let's talk space. With a wheelbase of 111 inches, the GLB delivers more than its convenient, compact form would suggest. Twenty-three cubic feet of trunk capacity allow it to serve as a workhorse for transporting luggage, groceries, sporting equipment and more. And when it's time to get the whole family moving, two additional seats unfold to form a third row. In front, generous headroom of 41 inches caps off an elegant Widescreen Cockpit, accentuated by a large-body dashboard and aluminum-styled fittings.
Outside, the EQB's black panel grille and continuous light strip at front and rear signal its membership in the EQ family, even as its distinctive, sculpted form carves out a place entirely its own. With a low drag coefficient, that form is more than merely aesthetic: It's design in the service of performance.
The EQB delivers robust power, with an excess of 288 (215kW) horsepower in the 350 model. Even more impressive, however, is the way it manages that power. Using Navigation with Electric Intelligence, the EQB monitors navigation data, traffic signals and information from vehicle sensors to conserve and recuperate energy wherever it can. It's also meticulous when it comes to managing journey times, factoring charging stations, charging duration, weather, topography and even your personal driving style into its estimates.
The EQB charges up at home through standard AC power, either using a household socket or a Mercedes-Benz Wallbox[1]. For a quick charge on the go, DC fast charging stations allow the EQB to go from 10% to 80% power in as little as 30 minutes. And with access to the world's largest charging network through Mercedes me Charge[1], the EQB's versatility goes well beyond the vehicle itself.
Look for the EQB to launch in 2022.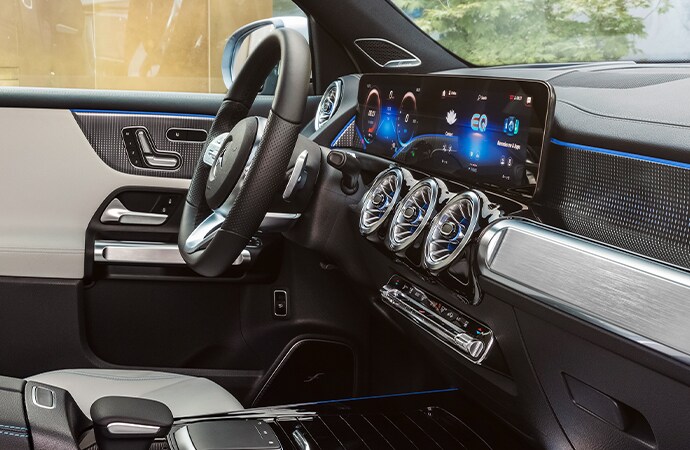 Technology and Performance
420 V lithium-ion battery with 66.5 kWh battery capacity

7.5 hours (10 - 100%) charging time, 240V wall box

32 minutes (10 - 80%) charging time, DC fast charging 110kW

225 hp and 288 lb-ft of torque (300) and 288 hp and 324 lb-ft of torque (350)
Navigation with Electric Intelligence factors maximum charging power and duration of charging stops into route recommendations[2]
4MATIC all-wheel drive[3]

ECO Assist predictively computes driving to help save energy

Mercedes me Charge allows use of numerous charging stations from various providers[1]
The latest advanced Driving Assistance systems[4]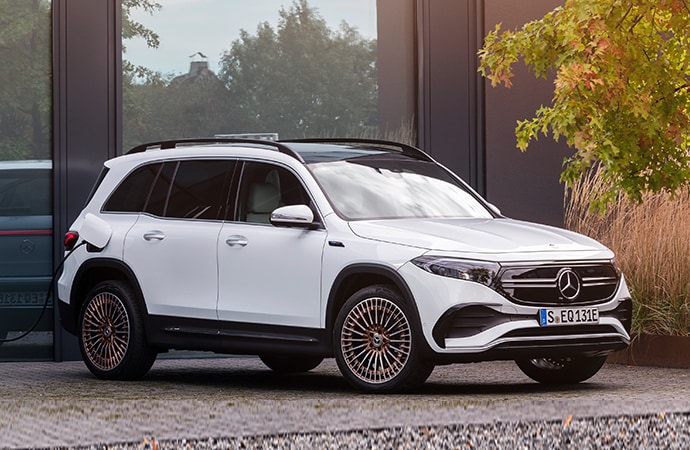 Design
New-generation MBUX Multimedia System, including Natural Language Understanding and Keyword Activation ("Hey Mercedes")

Navigation system featuring optional Augmented Reality

Optional seating for up to seven

Seat backrest folds with a 40:20:40 split

Generous wheelbase of 111.3  inches

Electric-inspired design including blue color highlights in the headlamps and a horizontal fiber-optic running strip

Interior Widescreen Cockpit creates a futuristic environment in which to control the vehicle and MBUX
Stay Informed
Sign up for exclusive communications and be among the first to know the latest about 2022 EQB.
How Can We Help?
* Indicates a required field
(1) Complimentary 30-minute charging sessions are included for the first two years after account activation, exclusively on the Electrify America DC charging network. Charges may apply if the vehicle occupies the charging station for more than 30 minutes, or more than 10 minutes after reaching a full charge, whichever comes first. Charging on other networks may incur fees. Electrify America is a trademark of Electrify America LLC, which is a third party not within the control of Mercedes-Benz USA, LLC. Availability of, compatibility with, and access to the network depends on Electrify America and your location. For further information and limitations, and to learn more about where Electrify America network chargers are located, visit https://www.electrifyamerica.com/locate-charger/ or contact an authorized Mercedes-Benz dealer. Benefits are not transferable to other users or subsequent owners.
(2) While the navigation system provides directional assistance, the driver must remain focused on safe driving behavior, including paying attention to traffic and street signs. The driver should utilize the system's audio cues while driving and should only consult the map or visual displays once the vehicle has been stopped in a safe place. Maps do not cover all areas or all routes within an area, may require periodic updating, and may not reflect recent or temporary changes to roadways.
(3) No system, regardless of how advanced, can overcome the laws of physics or correct careless driving. Please always wear your seat belt. Performance is limited by available traction, which snow, ice and other conditions can affect. Always drive carefully, consistent with conditions. Best performance in snow is obtained with winter tires.
(4) Some systems are optional. Even the most advanced safety systems may not be sufficient to avoid an accident. It is the driver's responsibility at all times to be attentive to traffic and road conditions, and to provide the steering, braking and other driving inputs necessary to retain control of the vehicle. Drivers are cautioned not to wait for system alerts before braking or taking evasive action, as that may not afford sufficient time and distance. See Operator's Manual for system operating speeds and additional information and warnings.