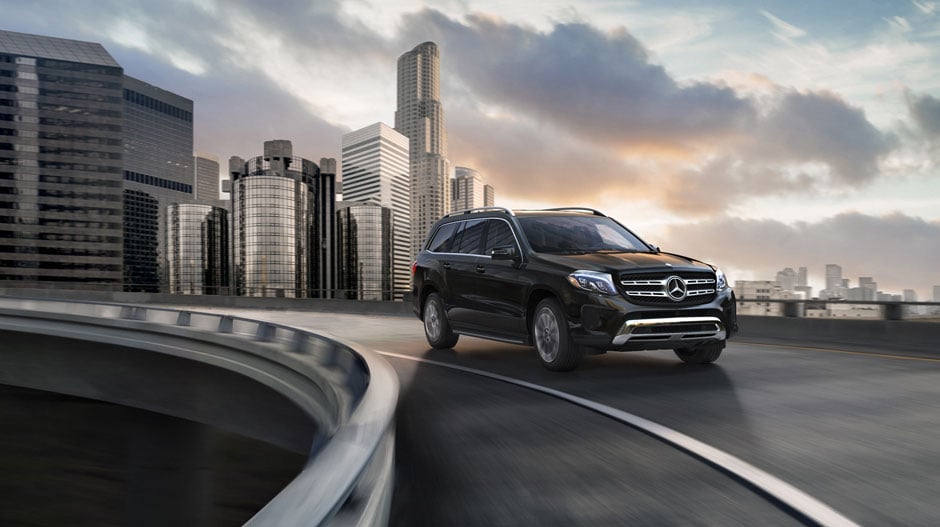 Picture this: It's early in the morning, and you're trying to wrangle your family out of the house and into the car for your annual vacation. The kids are running around grabbing last-minute things to entertain themselves with on the long drive, and your partner is desperately trying to cram everyone's luggage in the back of the car. It seems like utter chaos to think of throwing everyone into one vehicle and keeping your sanity on an eight-hour drive. But with the 2018 Mercedes-Benz GLS, available at our local Mercedes-Benz dealership near Long Island, it could be a whole different experience.
A massive luxury SUV that boasts ultimate comfort, the 2018 Mercedes-Benz GLS has three rows of seating for seven passengers total. Its spacious cabin offers generous legroom for all the kids, plus plenty of cargo space for all those suitcases. HD radio, smartphone integration, and an optional entertainment system keep all the passengers busy and satisfied on those long drives, so whoever's behind the wheel can focus on the road. An onboard hands-free communication system and dual-zone climate control ensure comfort for the driver and passengers as well.
Base models of this new Mercedes-Benz SUV near Massapequa, NY come equipped with a 3.0-liter V6 engine that renders 362 horsepower and 396 lb-ft of torque, plus a nine-speed automatic transmission. Fuel economy maxes out at 17 MPG city and 22 MPG highway, and the automatic start/stop system—a new standard feature in 2018 models—helps to keep usage down.
If you'd like to make your next road trip a luxury experience to remember, stop in at Mercedes-Benz of Southampton in New York. Our state-of-the-art facilities combined with superior service and an extensive showroom of Mercedes-Benz vehicles is sure to impress. Don't wait—visit us today to check out the highly rated 2018 Mercedes-Benz GLS SUV.