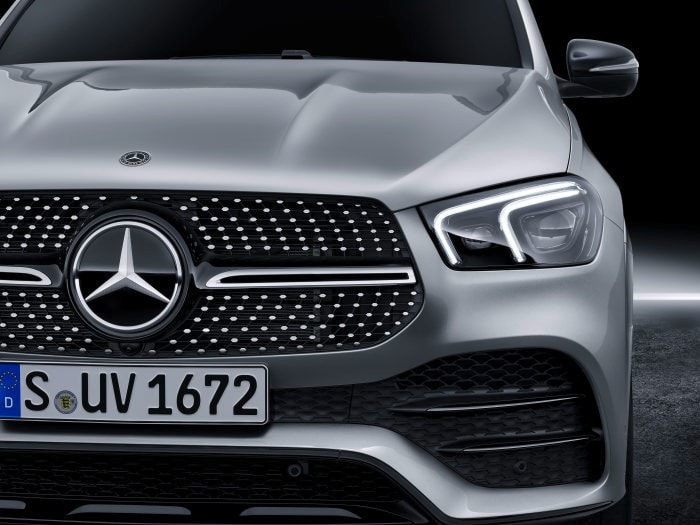 Big things are coming down the road for the new Mercedes-Benz GLE SUV, and we can't wait to share them with you. The 2020 Mercedes-Benz GLE is a home run when it comes to efficiency, with an available hybrid version that we've just learned could be one of the first plug-in models of its kind to reach over 60 miles solely on electric power, said Ola Källenius, sales chief at Daimler, the Mercedes-Benz parent company.
"The GLE will be the first car with a 100-kilometer (62-mile) range on a plug-in hybrid in the [Worldwide Harmonized Light Vehicle Test Procedure] cycle," said Källenius. The most recent GLE hybrid model available is rated between 12-30 miles, making the range of the 2020 model year more than twice as far.
This SUV will come equipped with a standard 2.0-liter turbo-4 engine that delivers 255 horsepower, while the hybrid model is powered by a turbocharged 3.0-liter inline-6 engine with 362 horsepower. Options for both rear- or all-wheel drive are available, depending on the trim level. A nine-speed automatic transmission pairs with each engine option.
The redesigned model year of this great luxury crossover SUV offers new features, such as an updated driver-assistance system that can help drivers navigate through tough traffic jams, an optional Active Stop-and-Go Assist functionality, and infotainment options galore in the cabin.
Shoppers can expect to see the new Mercedes-Benz GLE rolling out to dealerships in the spring of 2020, but the new hybrid version is expected to be available later next year, in 2019. Its arrival marks another milestone for the Mercedes-Benz brand's goal to offer a hybrid version of every vehicle it offers.
If you'd like to learn more about the new Mercedes-Benz GLE for sale, contact our car dealers serving Long Island, NY at Mercedes-Benz of Southampton. And in the meantime, stop by to check out what's already on our lot, where our extensive selection is sure to impress.