All the versatility of an SUV. All the performance of an AMG.
There's never been a vehicle quite like the 2022 GLC 63 S SUV.
This one's built for those who demand a little extra.
Not just an SUV, but an SUV that crushes the famed Nurburgring. Not just a comfortable everyday ride, but one that reaches 60 mph in 3,6 seconds. Not only a vehicle with room for vacations, commutes, grocery runs and getaway, but one that packs a handcrafted V8 engine too. The GLC 63 S SUV takes Mercedes-Benz's most sought-after vehicle and jacks its performance up to eleven.
It has all you'd expect from the recently redesigned GLC: benchmark safety, comfort, technology and versatility. Buts its power and agility are something else altogether. An adaptive damping air suspension combines variable with all-wheel drive and high-performance brakes to deliver those characteristic AMG dynamics. For all its spaciousness, the GLC moves with grace, precision, and (of course) power. Its engine boasts a unique configuration, with turbochargers positioned inside the cylinder "V" to provide optimal response, while keeping everything as compact as possible. Standard AMG touchscreen like AMG DYNAMIC SELECT drive modes, an AMG Performance Exhaust System, AMG steering wheel and 20" AMG design wheels ensure that this SUV looks, sounds, and feels every bit the powerhouse that it is.
And if you want it even sportier, take your pick of packages and options: From the AMG Aerodynamics Package to the Exterior Carbon Fiber Package to AMG Performance Seats, the GLC 63 S offers plenty of ways to style this remarkable vehicle.
Look for the 2022 GLC 63 S SUV in dealerships this fall.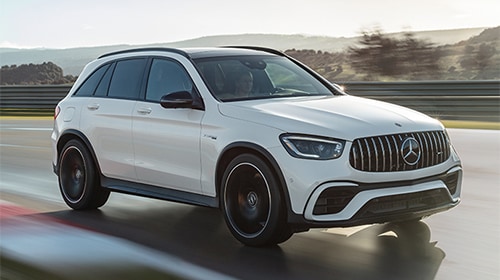 Key Highlights
Handcrafted AMG 4.0L V8 biturbo engine

503 hp and 516 lb-ft of torque

0-60 mph in 3.6 seconds[1]
Top speed of 174 meh (electronically limited)[1]

AMG SPEEDSHIFT MCT 9-speed transmission

4MATIC+ all-wheel drive[2]

AMG DYNAMIC SELECT drive modes

AMG RIDE CONTROL+ air suspension with adaptive damping adjustment

Driver Assistance Systems[3]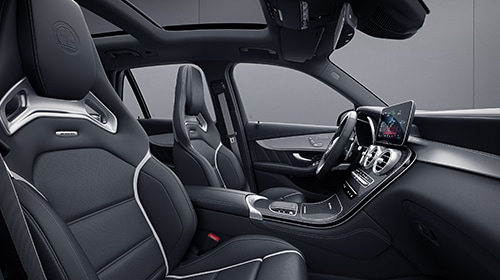 Design
Mercedes-Benz User Experience (MBUX) with Voice Control multimedia system based on artificial intelligence, with AMG-specific functions

AMG steering wheel with Touch Control buttons

20" AMG design wheels

LED High Performance headlamps and tail lamps

Multimedia Package with Augmented Video for Navigation

Available AMG Performance Seats

Available AMG Aerodynamics Package, Exterior Carbon Fiber Package, AMG Night Package
Stay Informed
Sign up for exclusive communications and be among the first to know the latest about 2022 Mercedes-AMG GLC 63 S SUV.
Vehicle may not be exactly as shown European model shown
[1] Obey local speed and traffic laws.
[2] No system, regardless of how advanced, can overcome the laws of physics or correct careless driving. Please always wear your seat belt. Performance is limited by available traction, which snow, ice and other conditions can affect. Always drive carefully, consistent with conditions. Best performance in snow is obtained with winter tires.
[3] Some systems are optional. Even the most advanced safety systems may not be sufficient to avoid an accident. It is the driver's responsibility at all times to be attentive to traffic and road conditions, and to provide the steering, braking and other driving inputs necessary to retain control of the vehicle. Drivers are cautioned not to wait for system alerts before braking or taking evasive action, as that may not afford sufficient time and distance. See Operator's Manual for system operating speeds and additional information and warnings.