The jewel of any interior.
A new level of user interaction. The all-new MBUX Hyperscreen.
An innovative, intuitive way to interact with technology.
Making its debut in the new EQS from Mercedes-EQ, MBUX Hyperscreen combines unique electrical aesthetics with outstanding user-friendliness.
Get ready for a screen that is unlike anything you've ever seen before.
Introducing MBUX Hyperscreen. Making its debut as an option in the new EQS from Mercedes-EQ, it's a "jewel of interior design" and a true work of art. Using artificial intelligence, the display and operating system can adapt completely to the user for a range of personalized suggestions, creating a center of attention, control and entertainment.
"The new MBUX Hyperscreen combines unique electrical aesthetics with outstanding user-friendliness. A decisive strength is the clever networking of systems based on intelligent, adaptive software. This makes the Hyperscreen the brain on the car; it's connected to and communicates with all components of the vehicle," said Saijad Khan, Member of the Board of Management of Mercedes-Benz AG and CTO.
Beneath one 56-inch, gently curved piece of glass, three separate displays merge to look like a single entity. Integrated ambient lighting gives MBUX Hyperscreen a floating appearance on top of the dashboard. The clear and minimalist design helps give EQS passengers intelligent access to available and suggested functions at any given time, while the brightness adapts to the lighting conditions within the interior. Non-controlled image pixels remain switched off, so they appear deep black, whil active OLED pixels shine with a high color brilliance. "When developing the MBUX Hyperscreen, the focus was clearly on the customer," said Saijad Khan.
MBUX Hyperscreen boasts impressive computing power. Eight CPU cores, 24 gigabytes of RAM and 46.4 gigabytes per second RAM memory bandwidth are among the impressive technical highlights. Twelve actuators are located under the touchscreen surfaces to provide haptic feedback.
To help minimize driver distraction, and provide some of the most important information at the forefront - MBUX Hyperscreen also introduces the "Zero Layer". Through artificial intelligence, MBUX can suggest actions based on previous user interaction, location, and time of day. For example, if you always call one person on your commute home from work, a tile will appear at the top of the display with an intelligent suggestion to call them.
With the levels of connectivity enabling new forms of interactivity and individuality, the MBUX Hyperscreen for the EQS is customer-centric at its core. It takes a closer look at what passengers need and evokes comfort and ease. Making sure the functions you need in any situation are automatically provided to you, everything you require is at your fingertips.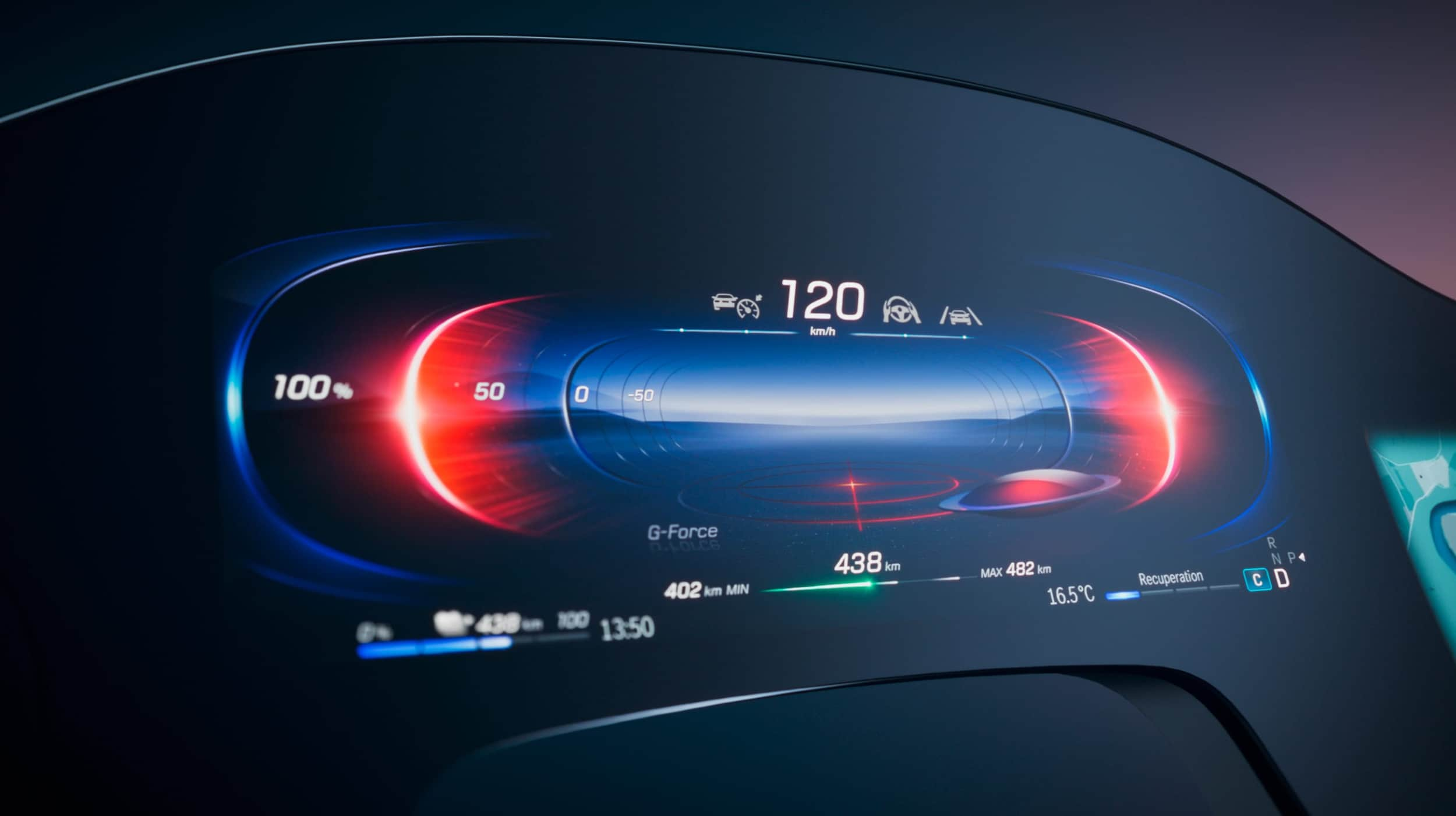 Key Highlights 
3 separate screens, one 56" surface, with two-coatings of scratch and reflection-resistant aluminum silicate glass.

OLED technology - including a 17.7" Central Display and 12.3" Passengers Display
8 CPU cores, 24 GB RAM and 46.4 GB memory
The largest display ever in a production Mercees-Benz
Haptic feedback with a total of 12 actuators under the touchscreen surface
Supports 27 languages with Natural Language Understanding (NLU)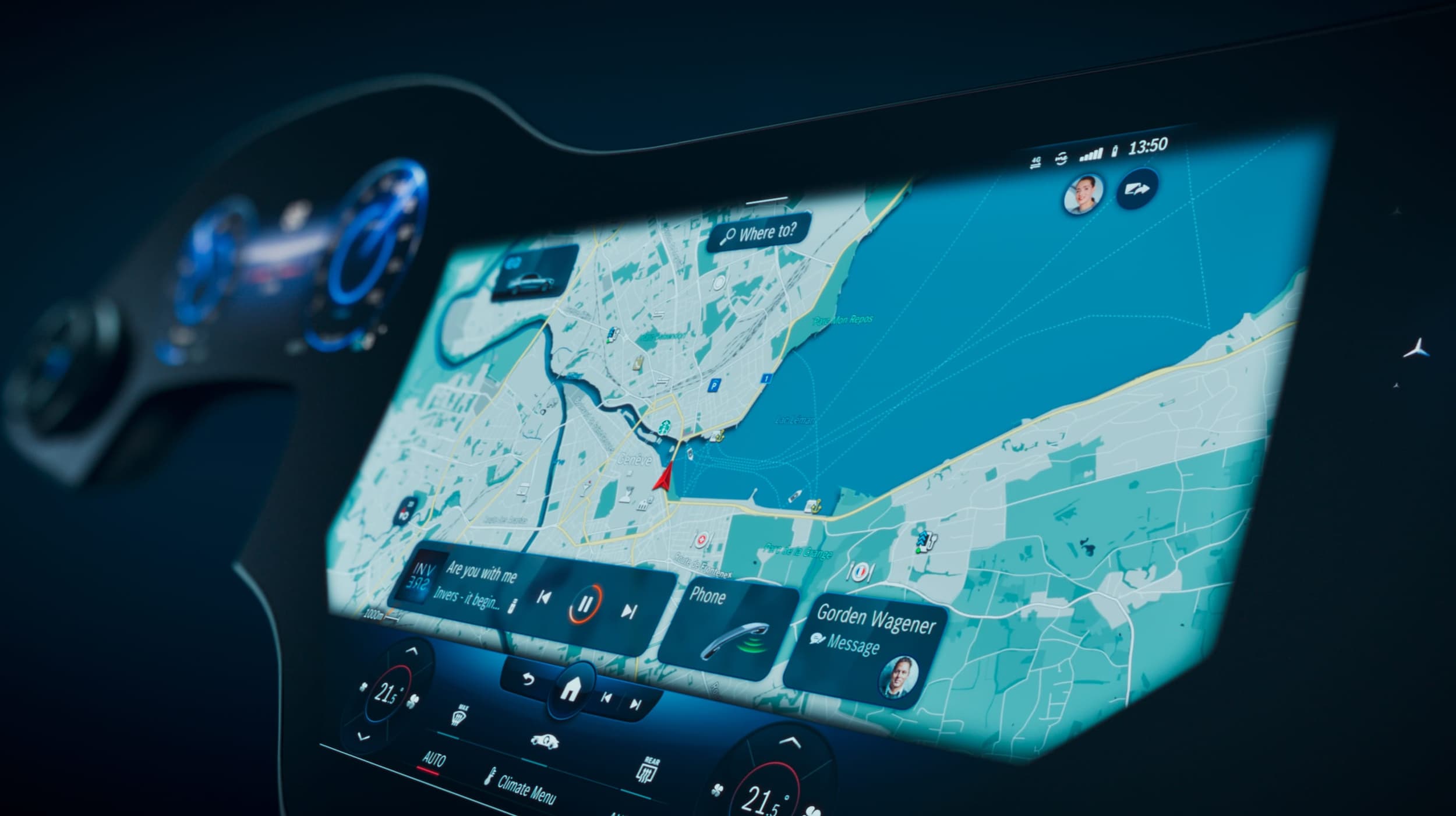 "Zero Layer" Design 
Personal home screen with "Zero Layer" principle
MBUX can be controlled by natural voice recognition
Fluid, proactive user interface
AI data processing for intuitive driver suggestions
Passenger display (with up to 7 passenger profiles to customize content)
Stay Informed
Sign up for exclusive EQ communications and be among the first to know the latest about Mercedes-Benz EQ.