S-Class luxury. Pure electricity.
The all-electric 2023 EQS SUV from Mercedes-Benz.
PERFORMANCE & CHARGING
Poised to take you new places.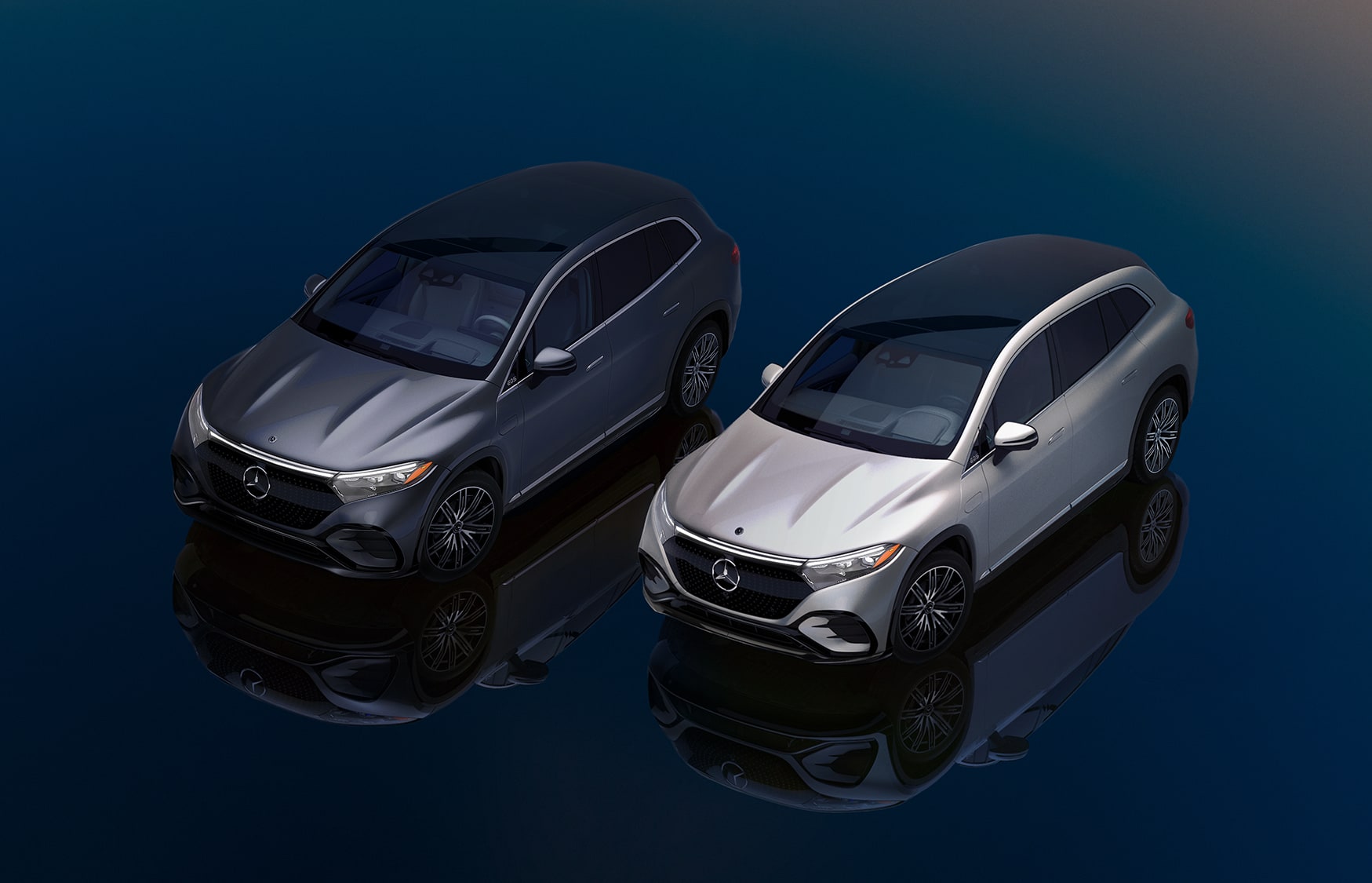 The power to advance.
Advanced electric motors generate swift, seamless torque: A single motor sends 355 hp to the EQS 450's rear wheels, good for 0-60 in 6.5 seconds. Dual motors turn that into the all-wheel-drive, 5.8-second EQS 450 4MATIC. The dual motors in the EQS 580 4MATIC add up to 536 hp and 0-60 in 4.5 seconds.
11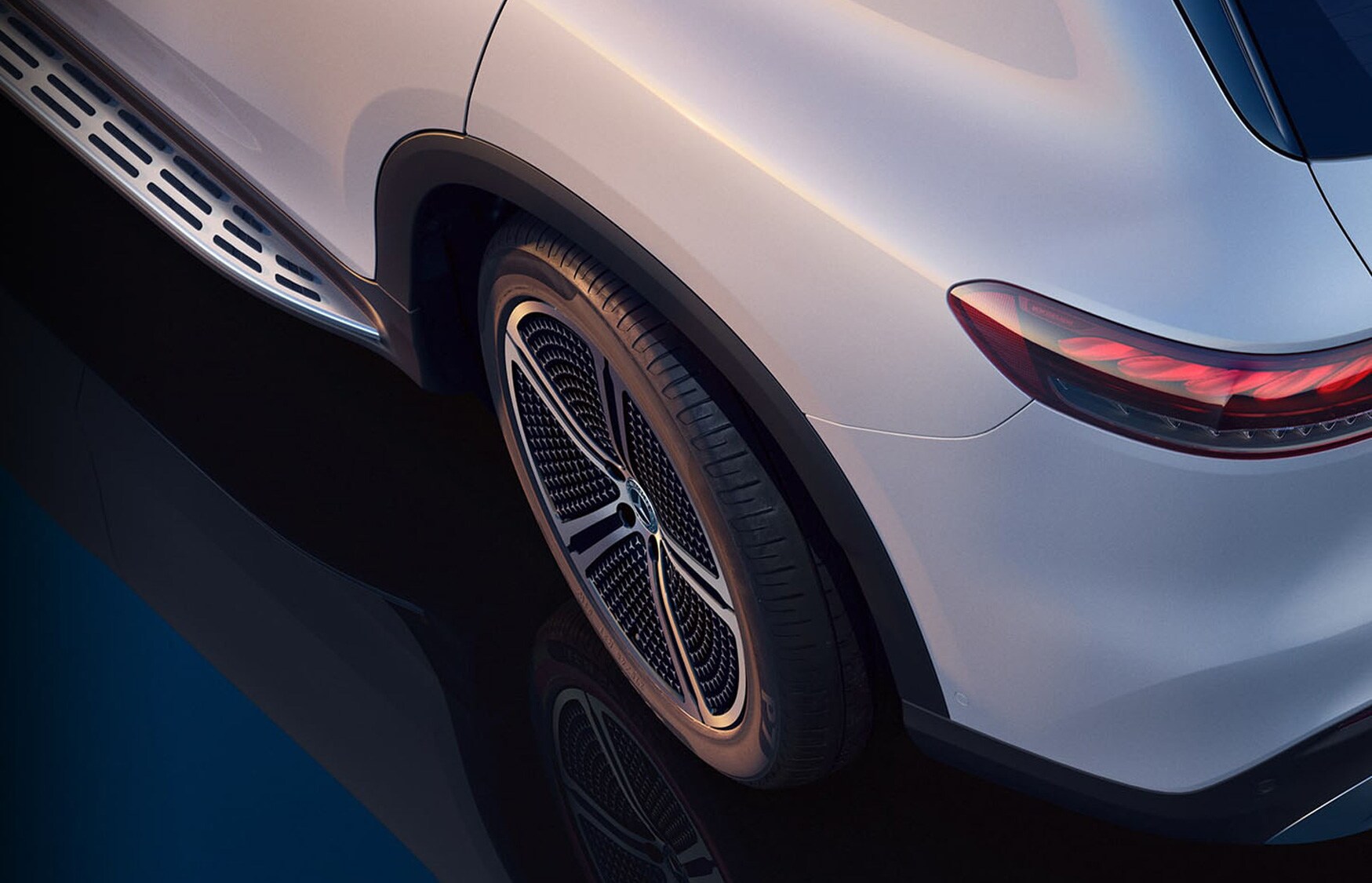 The wisdom to adapt.
Agile, self-leveling AIRMATIC® air suspension can adapt at each wheel to loads, roads, and the driving modes of DYNAMIC SELECT. Rear-axle steering enhances stability on the open road, maneuverability in tight spaces.12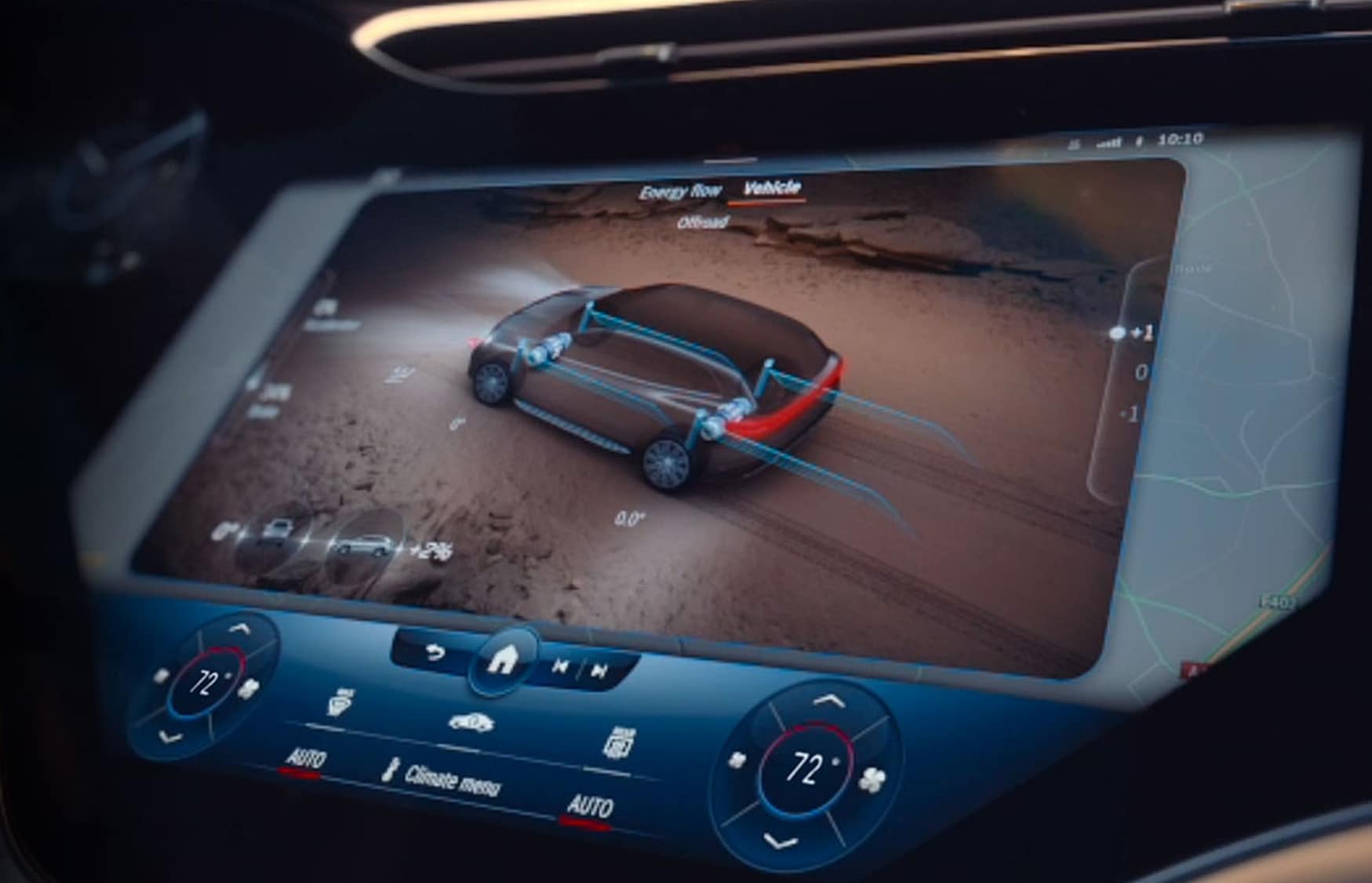 The confidence to roam.
Advancing a rich SUV heritage, the EQS features a dedicated OFFROAD mode that can raise the ride height, optimize the powertrain, and offer useful graphic displays. There's even a Carwash mode for when you return to civilization.13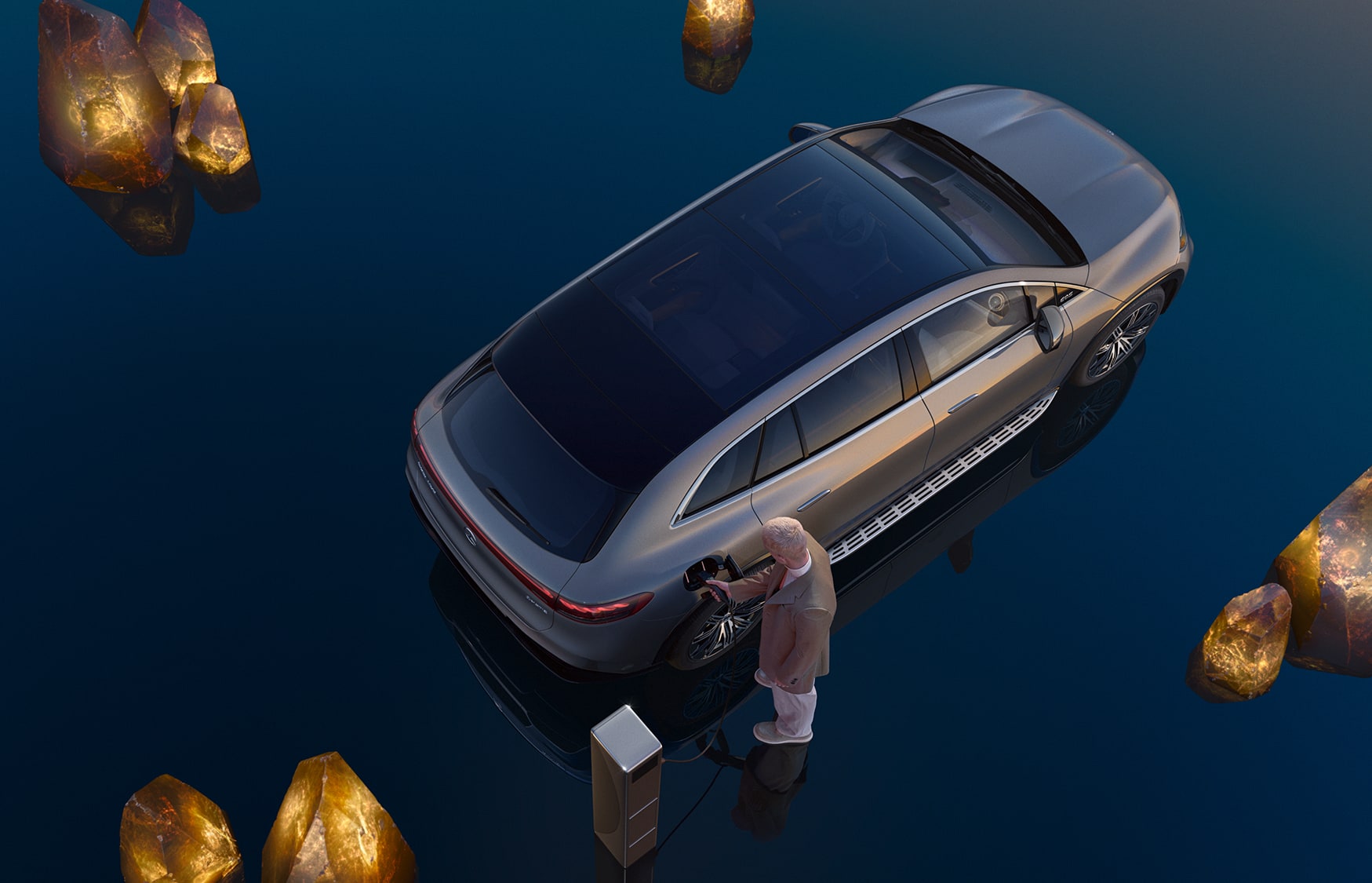 Electric made easy.
Along with up to 305 miles of driving range, an industry-advancing charging ecosystem offers over 60,000 public charge points nationwide with the assurance of green energy. Intelligent navigation sets a new standard for electric motoring simplicity.
14,15,16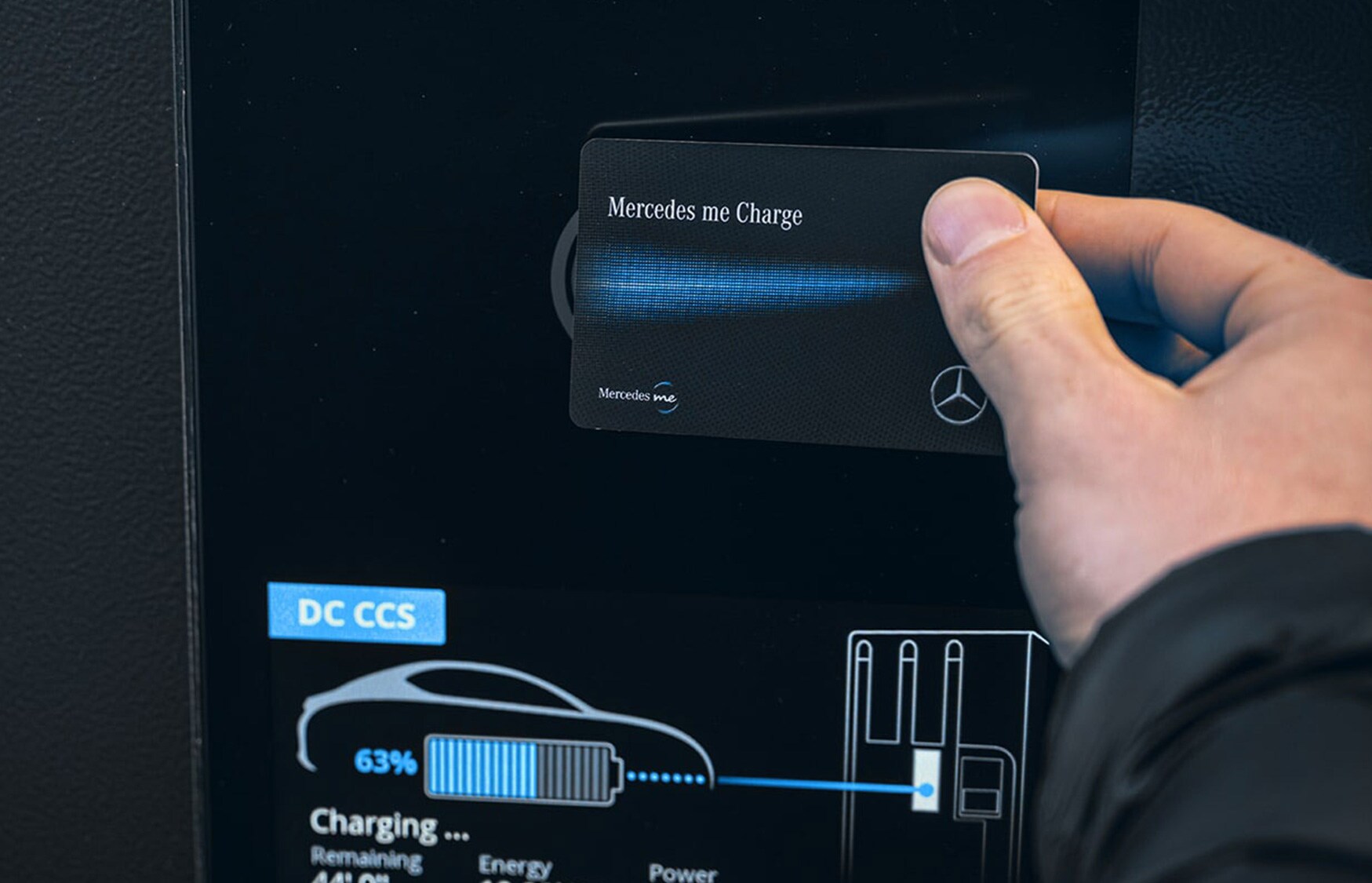 Charge forward, at no charge.
Charging leadership is a big way the EQS aims to set the standard for all EVs. Mercedes me Charge helps simplify locating, using and paying for charging on all major US networks. Purchasing or leasing a new EQS includes complimentary 30-minute sessions at Electrify America DC fast chargers for two years.
17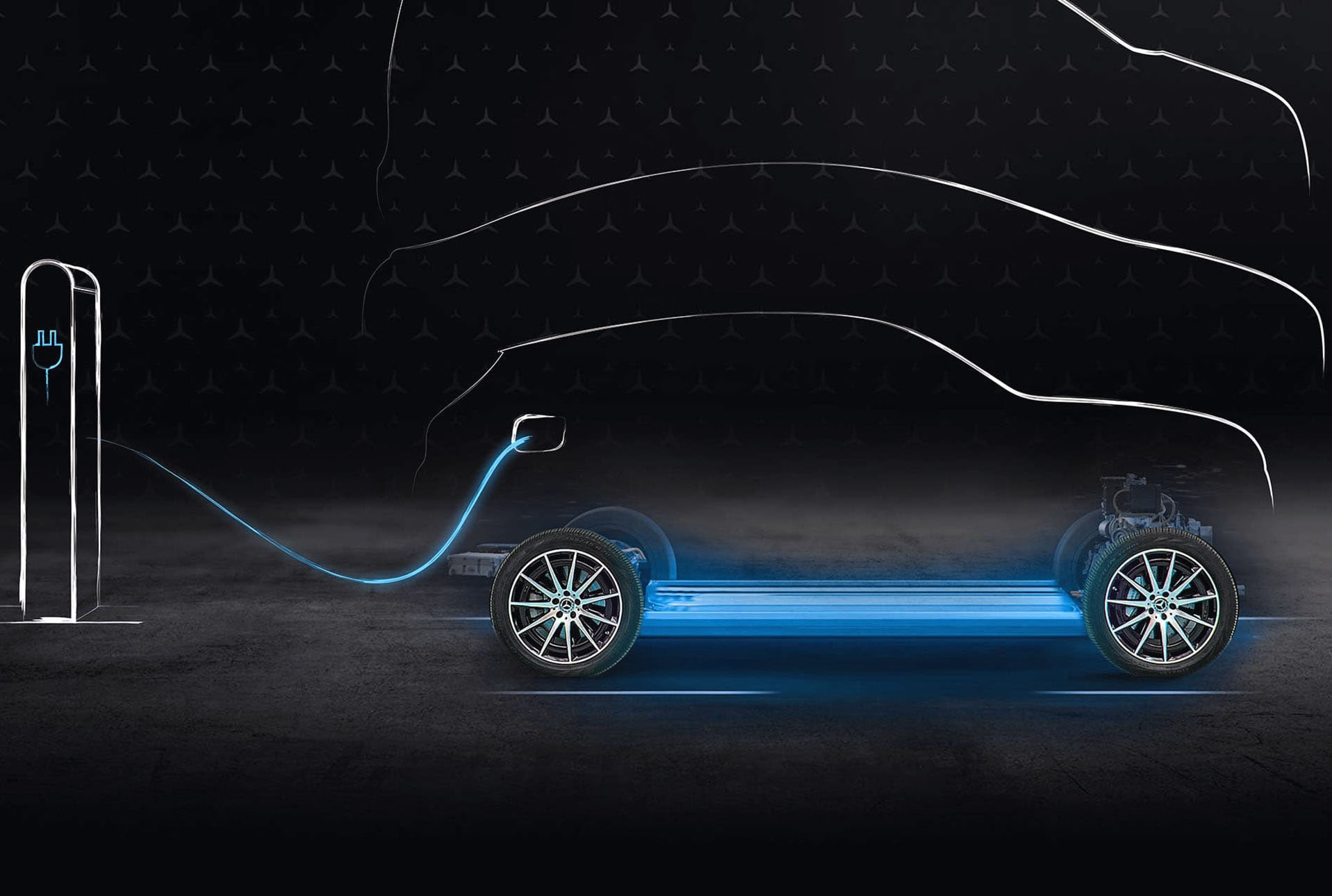 Start the day charged at home.
Mercedes-EQ helps make home-charging easy, smart and future-ready. Dedicated portals with ChargePoint and Qmerit are designed to help you purchase and arrange installation of a highly rated home wallbox that's engineered to work seamlessly with your EQS.
18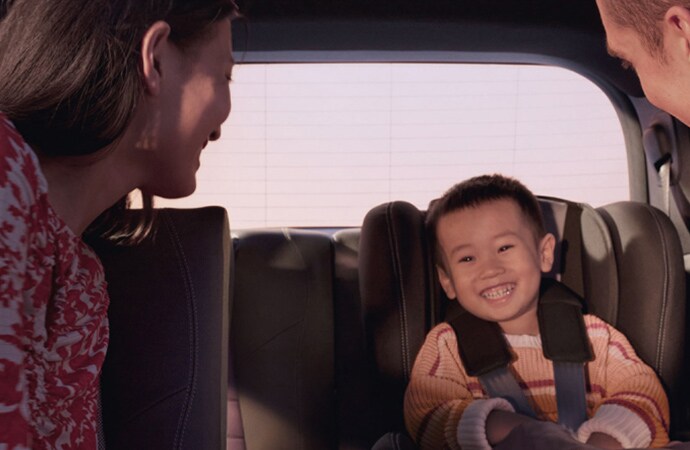 Owning a Mercedes-Benz electric vehicle comes with more than a few perks. Open to all New York State residents, the 
Drive Clean Rebate
 offers a point-of-sale rebate of 
up to $2,000
 towards the purchase or lease of a new electric vehicle.
https://www.nyserda.ny.gov/All-Programs/Drive-Clean-Rebate-For-Electric-Cars-Program/How-it-Works/Eligible-Models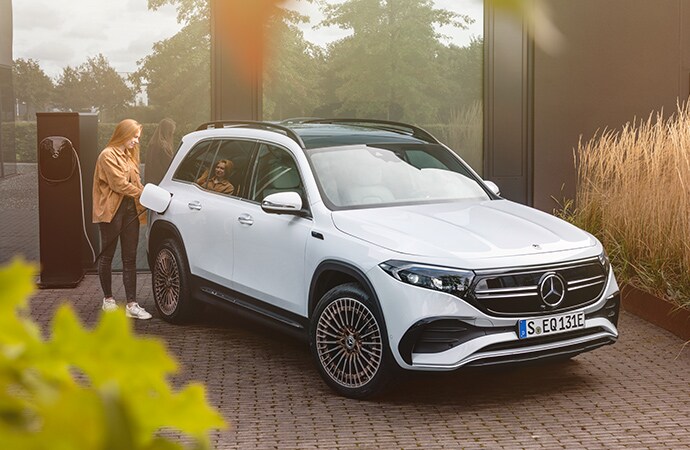 The cost of electricity - measured by kilowatt hour, or kWh - typically remains steady, with average rates at roughly 15 cents per kWh. That's about $540 a year - less than half the cost of fueling a conventional vehicle.*
https://www.eia.gov/electricity/monthly/epm_table_grapher.php?t=epmt_5_6_a
Fascinating, futuristic, and refreshingly familiar. 
Its range of talents is as impressive as its driving range. Ultramodern tech delivers earth-friendly and family-friendly benefits. It's an electric SUV like no other, with the Mercedes values you love.
Room to stretch your imagination.
Spacious for up to seven, the flexible cabin adapts to accommodate your ever-changing life. Over-the-air updates let its advanced technologies and digital assistant become even more advanced.1
Depth of knowledge, intelligently surfaced.
The MBUX Hyperscreen in the EQS 580 unites multiple screens in a 56-inch span of high-tech glass. "Zero-layer" tech uses Artificial intelligence to bring features and commands to the surface as you need them. The EQS 450's intuitive dual screens each span over 12 inches.
Advanced thinking, thoughtful anticipation.
Technology is anything but cold in an EQS. Personalization memorizes hundreds of preferences, recognizes fingerprints and faces, and learns over time. Available 2nd-row touchscreens offer individual entertainment and control of comfort settings.2
The smartest distance between two points.
In an EV, the destination is often as important as the journey. MB Navigation with Electric Intelligence helps plan your route to optimize range and speed recharging. Innovative Head-Up Displays are available to ease every step of the way. 3,4
The standard for driver assists, all standard.
Mercedes-EQ continues a legacy of innovations that work to make driving easier and more enjoyable. From changing lanes to slowing for school zones to hands-free parking, an extensive suite of driving assists is standard on every EQS.5
A watchful eye on your future.
Hundreds of sensors team up to keep watch on the road and other vehicles, to help prevent or prepare for danger from ahead, behind or either side. After you park, it can remind you if there's a pet or child in the vehicle, and take photos if the EQS is bumped by another car.5,6
DESIGN & LUXURY
Timeless elegance is polished to a new brilliance.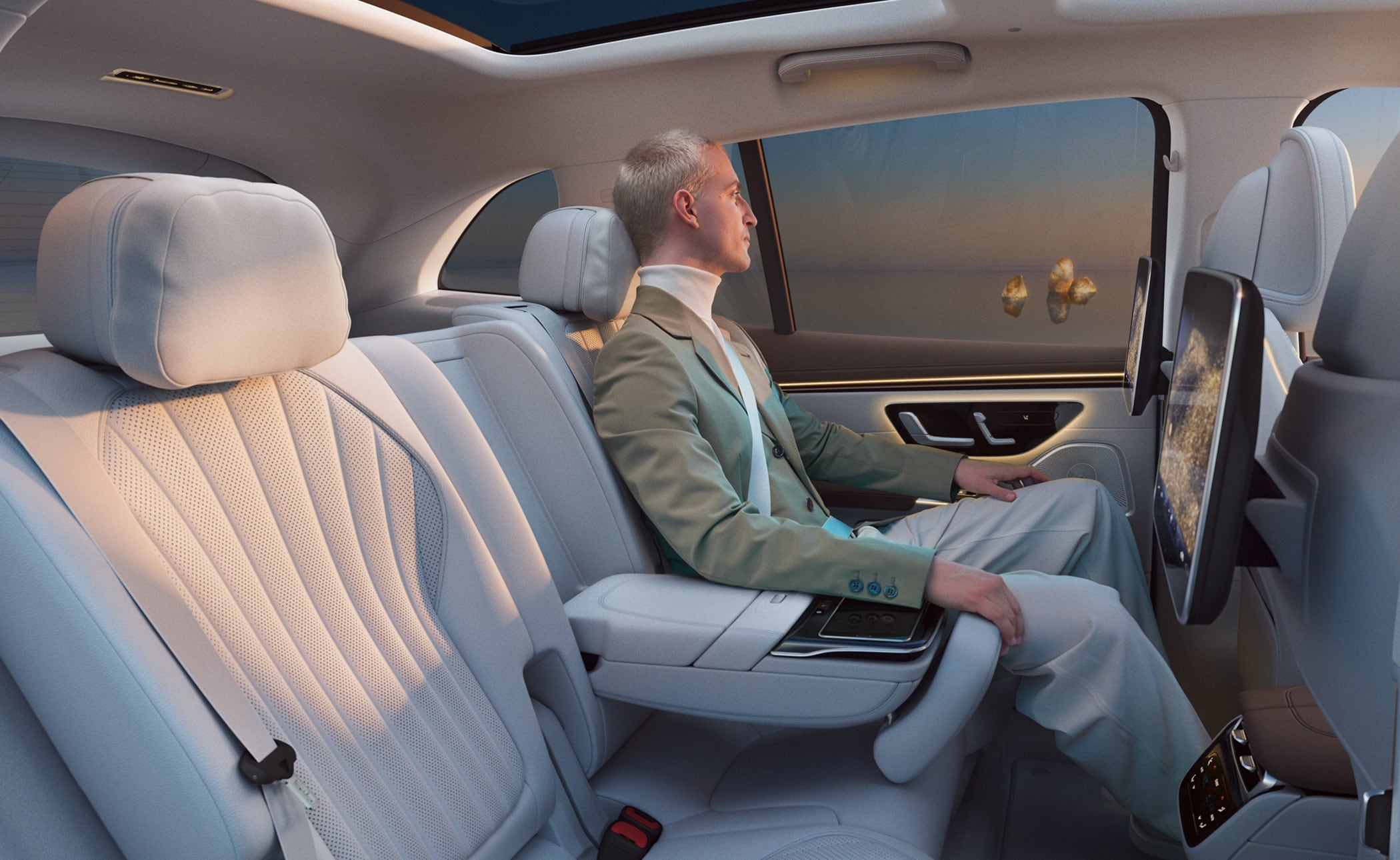 Pure luxury, made purer.
The drive for a freer-breathing future starts inside the EQS SUV. Beyond up to five available climate zones, you can enjoy HEPA filtration or a symphony of seat comfort, sound, aroma and ambient light. You can even pre-purify the cabin while the car charges.
7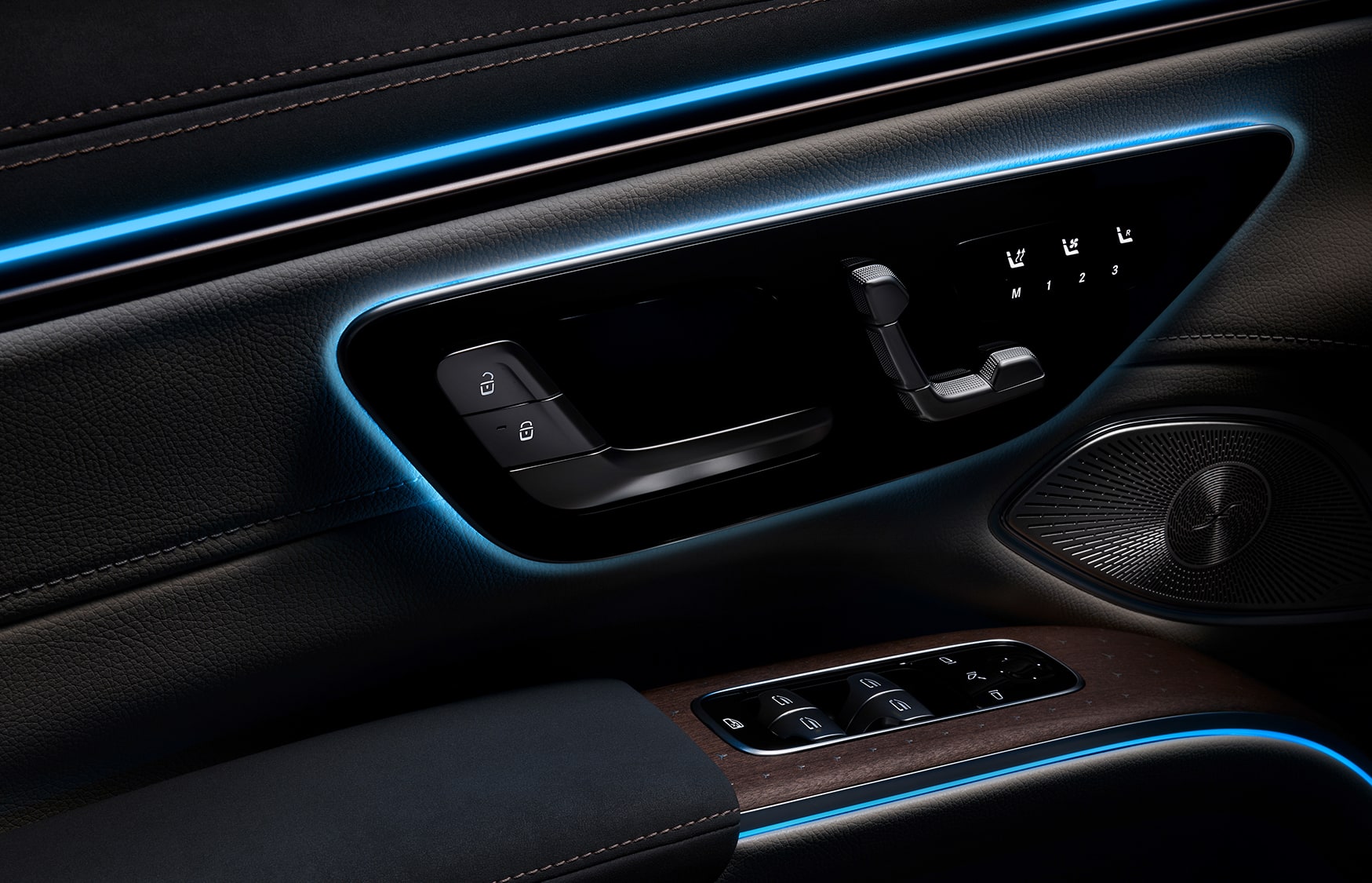 Surround sound, more enveloping.
The quiet comfort of electric motoring provides an ideal state for the EQ Sound Experience, which makes the most of the Burmester® 3D Surround Sound and Dolby Atmos® enhancement. Soundscapes can be personalized and respond to drive mode and your driving style.
8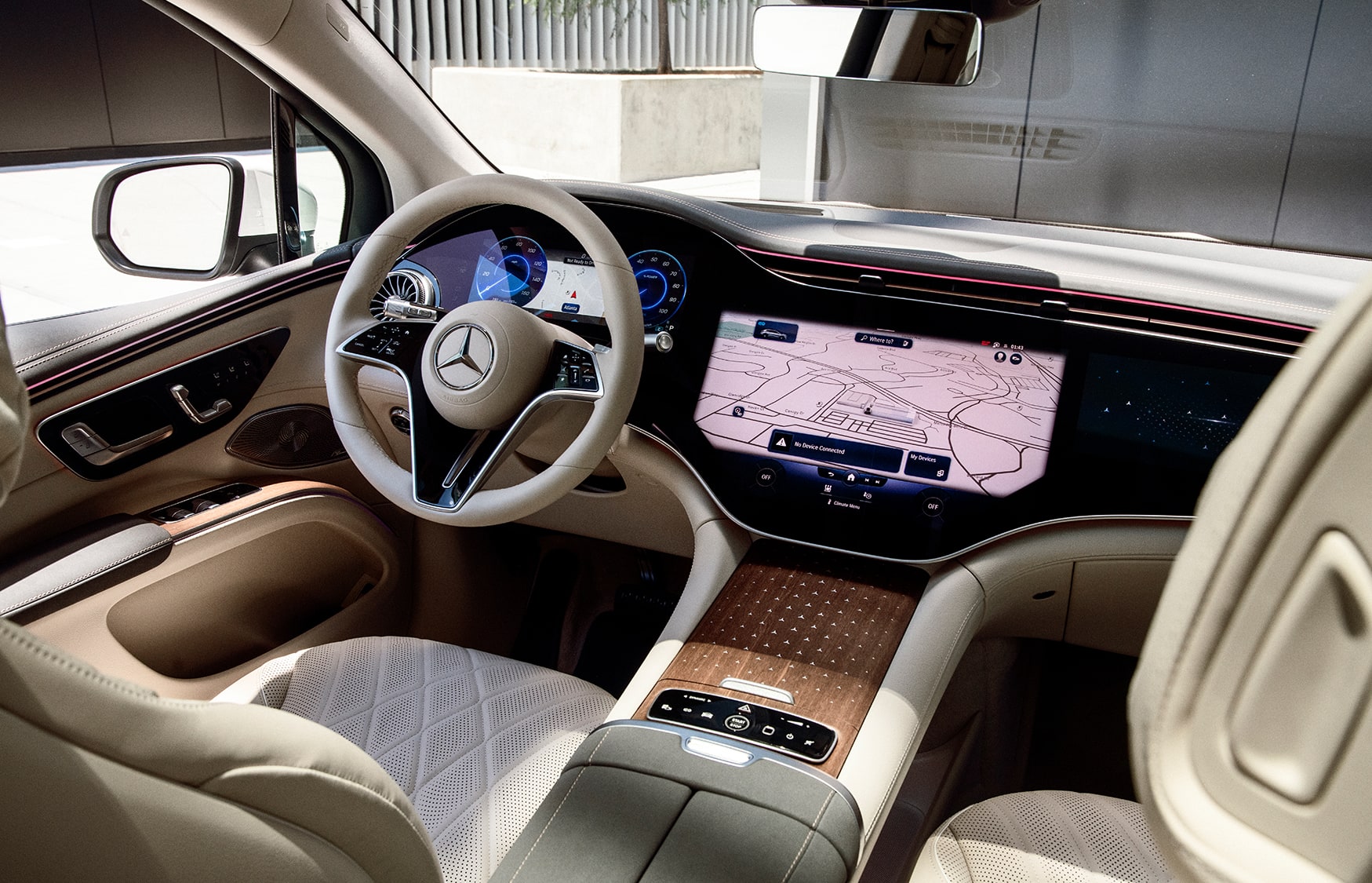 Three rows, more accommodating.
Welcome to first cabin. Heated and ventilated front seats offer massage options. The power second row can be outfitted with wireless charging and a removable tablet in the armrest. Fold down all the rear seats, optional third row included, for over 70 cubic feet of cargo space.
9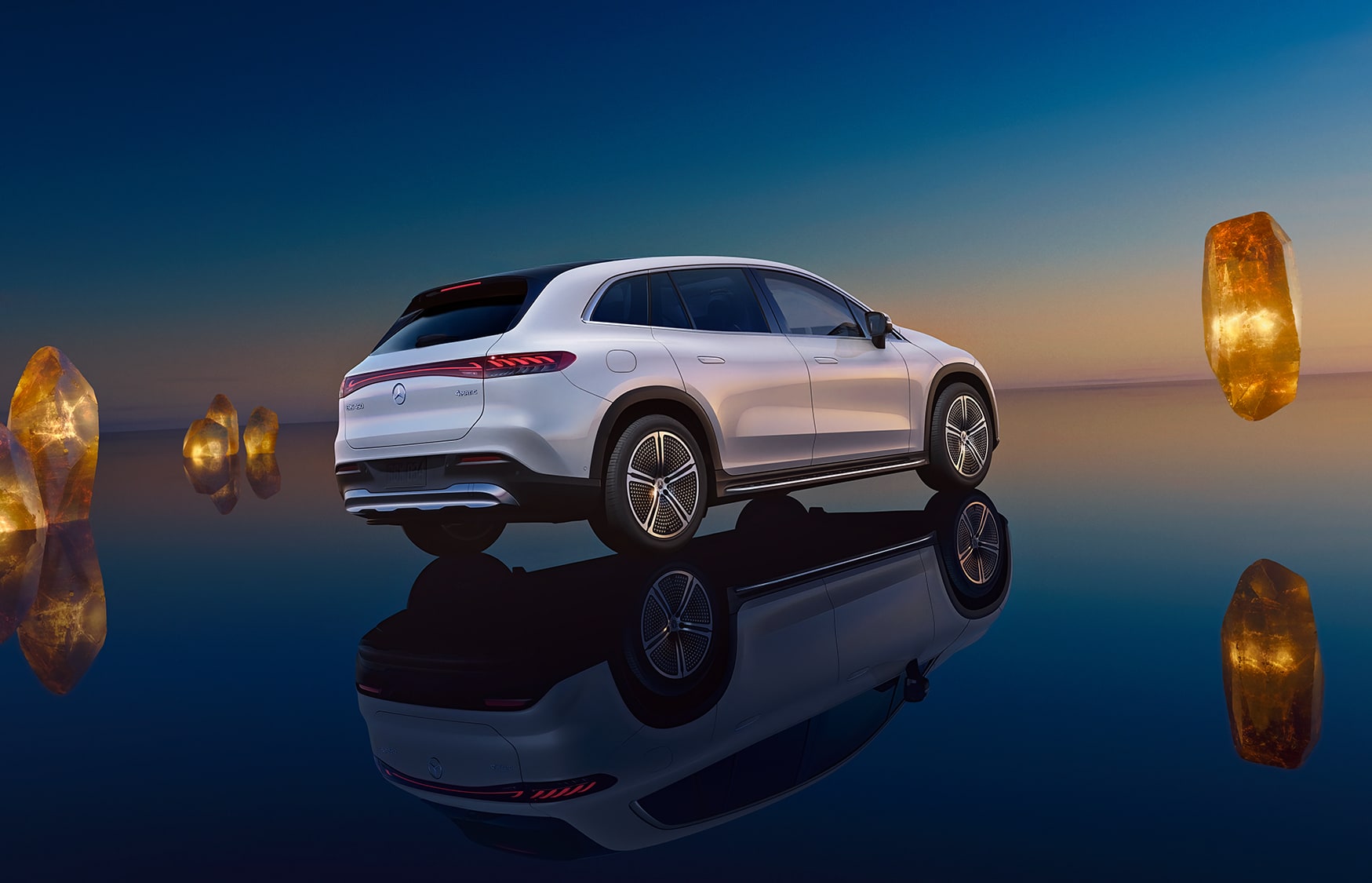 To leave the air unspoiled.
Flowing lines evoke the grace of toned muscle. Mercedes-EQ signatures, from the front Black Panel to the attention to every aerodynamic detail, come together in a shape that artfully expresses the science within. Without looking like science fiction.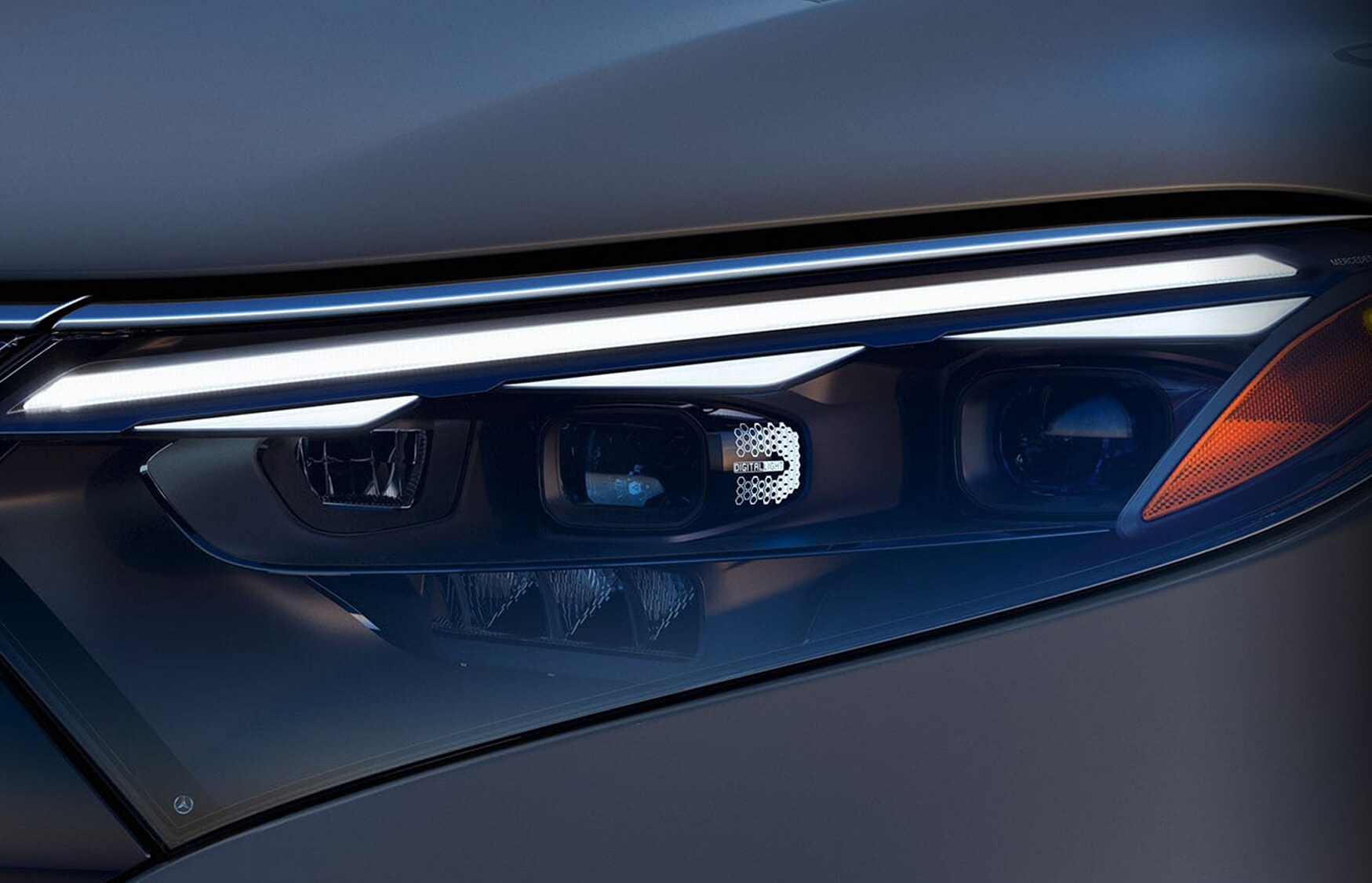 Toward more enlightened lighting.
LED lighting inside and out illuminates far more than the road ahead, though DIGITAL LIGHT headlamps do so brilliantly. Full-width running lamps and helix taillights provide visual identity. Active multicolor lighting edges the cabin and front seats, and offers cues to charging status.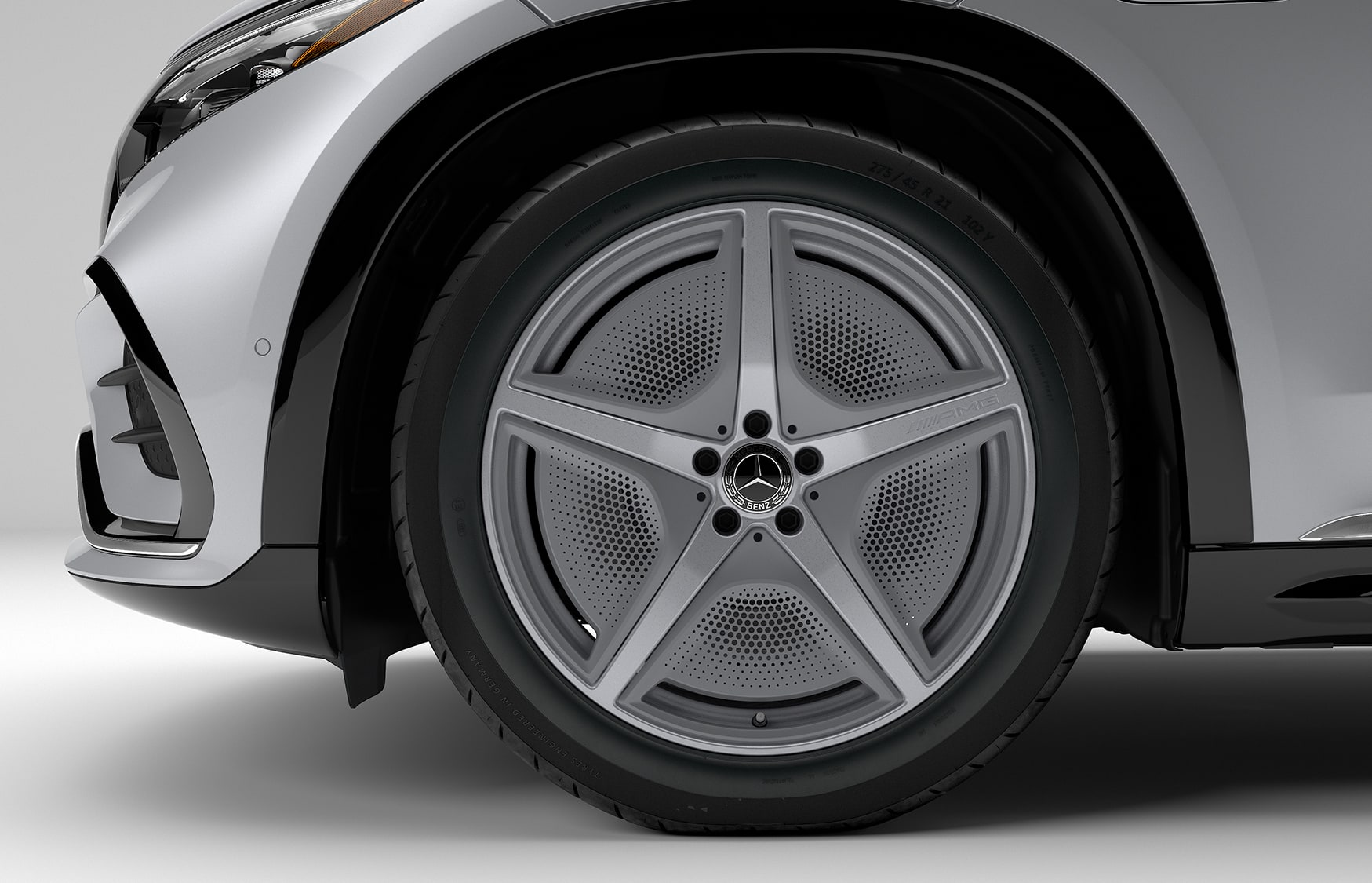 For looks that earn likes.
Designed to enhance range through reduced drag and special tire fitments, EQS SUV wheels are sized 20 or 21 inches. A wide variety of intriguing designs includes AMG® wheels to complement the available AMG Line styling.10
**Stated rates of acceleration are based upon manufacturer's track results and may vary depending on model, environmental and road surface conditions, driving style, elevation and vehicle load.
(1) Over-the-air updating requires Mercedes me connect to be active, plus an adequate cellular connection.
(2) Facial recognition included with Hyperscreen, standard on EQS 580 only.
(3) While the navigation system provides directional assistance, the driver must remain focused on safe driving behavior, including paying attention to traffic and street signs. Maps do not cover all areas or all routes within an area, may require periodic updating, and may not reflect recent or temporary changes to roadways.
(4) Display may not be visible with certain eyewear, including polarized glasses. While the navigation system provides directional assistance, the driver must remain focused on safe driving behavior, including paying attention to traffic and street signs. Maps do not cover all areas or all routes within an area.
(5) Some systems are optional. Even the most advanced safety systems may not be sufficient to avoid an accident. It is the driver's responsibility at all times to be attentive to traffic and road conditions, and to provide the steering, braking and other driving inputs necessary to retain control of the vehicle. Drivers are cautioned not to wait for system alerts before braking or taking evasive action, as that may not afford sufficient time and distance. See Operator's Manual for system operating speeds and additional information and warnings
(6) All Mercedes me services, including in-vehicle, over-the-air and app-based services and updates, operate only where cellular and/or GPS signals are available, which are provided by third parties and not within the control of Mercedes-Benz USA, LLC. One year of Mercedes me connect services is included at no additional charge with new-vehicle sales and leases at an authorized Mercedes-Benz dealer. Models factory-equipped with navigation also include one year of map updates (up to twice per year). Offers are not transferable to subsequent owners or lessees. Subscriber Agreement is required for service to be active. Some services are only available on select vehicles. Your PIN is required to use certain services. Connection may be limited by cellular signal and other factors. Features may be introduced and updated at varying dates, and may also require a vehicle software update. Some services may be limited or restricted in some areas. Driver is responsible for complying with traffic and other laws. See your dealer or MBUSA.com/en/mercedes-me-connect for details.
(7) Optional equipment may require additional options or specific trim levels.
(8) Dolby Atmos is a registered trademark of Dolby Laboratories Licensing Corporation.Back to content.
(9) Unsecured cargo can become hazardous in a collision. Always secure cargo using the floor-mounted tie-downs.Back to content.
(10) Lower-aspect-ratio tires and accompanying wheels may provide substantially increased treadwear, increased tire noise and reduced ride comfort. Serious wheel and tire damage may occur if the vehicle is operated on rough or damaged road surfaces or upon encountering road debris or obstacles. These tires are not designed for use on snow and ice. Winter tires mounted on appropriately sized and approved wheels are recommended for driving in those conditions.
(11) Stated rates of acceleration are estimated based upon manufacturer's track results and may vary depending on model, environmental and road surface conditions, driving style, elevation and vehicle load.
(12) System cannot overcome the laws of physics, nor is it a substitute for being attentive to driving, traffic and conditions. Please always wear your seat belt. Performance is limited by available traction, which snow, ice and other conditions can affect. Always drive carefully, consistent with conditions. Best performance in snow is obtained with winter tires.
(13) Off-road driving should only be attempted by drivers with the necessary skill, experience and understanding of the vehicle's limits. Read Operator's Manual before driving off-road.
(14) EPA estimated driving range with a fully charged battery. Driving range may vary based on model, terrain, temperature, driving style, optional equipment, use of vehicle features, and other factors.
(15) Driving range may vary based on terrain, temperature, driving style, optional equipment, use of vehicle features, and other factors. Charging times are estimated and may vary by location and equipment. Charging stations must be compatible with Combined Charging System (CCS). See your dealer for more information.
(16) EPA-estimated range is 305 miles for EQS 450+ SUV, and 285 miles for EQS 450 4MATIC and EQS 580 4MATIC SUVs. Learn more at fueleconomy.gov.
(17) Complimentary 30-minute charging sessions are included with new-vehicle purchase or lease for the first two years after account activation, exclusively on the Electrify America DC charging network. Charges may apply if the vehicle occupies the charging station for more than 30 minutes, or more than 10 minutes after reaching a full charge, whichever comes first. Charging on other networks may incur fees. Electrify America is a trademark of Electrify America LLC, which is a third party not within the control of Mercedes-Benz USA, LLC. Availability of, compatibility with, and access to the network depends on Electrify America and your location. For further information and limitations, and to learn more about where Electrify America network chargers are located, visit https://www.electrifyamerica.com/locate-charger/ or contact an authorized Mercedes-Benz dealer. Benefits are not transferable to other users or subsequent owners.
(18) Customer/homeowner agreement may be required with third-party vendors for purchase and installation of home charging equipment. Home installation may require an electrical service upgrade and/or other modifications at additional cost, and may not be available or permissible at all types of homes. For further information and limitations, please visit https://www.chargepoint.com/ and https://qmerit.com/. ChargePoint and Qmerit are third parties not within the control of Mercedes-Benz USA, LLC. ChargePoint is a registered trademark of ChargePoint, Inc.