The all-new 2022 Mercedes-AMG EQS. Advancing AMG Technology into the future.[1]
Finally, sustainability meets raw power.
Electrify the performance segment? Challenge accepted.
Our electric portfolio is set to expand with boundless power in the all-new Mercedes-AMG EQS. True to every AMG before it, this all-electric sedan puts performance in sharp focus, delivering on our brand promise to blaze a dynamic driving experience.
Its powertrain runs on silent electricity, but that doesn't mean we can't make that engine roar. "Authentic" or "Performance," our exclusive AMG SOUND EXPERIENCE, generates the evocative feeling of driving an AMG via premium speakers.
Synchronous motors are situated at both the front and rear axles and have a variable AMG Performance 4MATIC+ all-wheel drive, unleashing tremendous power in all driving conditions. Speaking of which, this sedan dominates with a colossal 649 hp with 700 lb-ft of torque, and can take that even further - briefly boosting power to 751 hp - with the standard AMG DYNAMIC PLUS package in RACE START mode.[2,3]
Based on Mercedes-EQ architecture, the powerful 400-volt battery with the latest lithium-ion technology is configured specifically for AMG. So let's set the standard for acceleration: This thunderbolt is optimized to perform at 0-60 mph in an estimated 3.4 seconds, with a top speed of 155 mph.[2,3]The streamlined silhouette brings its drag coefficient down to a phenomenal 0.23, for maximum aerodynamic efficiency. As standard, the Mercedes-AMG EQS gets up to 9 degrees in rear-axle steering to reduce the turning circle of this beast to that of a compact yet providing high-speed stability.                                     
The Mercedes-Benz User Experience (MBUX) Hyperscreen is hyper-intuitive and also comes as standard. Spanning from A-pillar to A-pillar - three screens fused seamlessly into one monstrous display - personalized features, infotainment, comfort and vehicle functions are designed to automatically rise to the surface as needed. Plus, MBUX in the AMG EQS offers a range of additional functions and graphics that emphasize the high-performance character of this sporty model.
Mercedes-EQ owners can enjoy access to the largest integrated network of charging stations across the USA, powered by Mercedes me Charge.  As an added benefit, owners get complimentary 30-minute charging sessions with Electrify America's DC Fast-Charging stations for the first two years.[4] For fast charging at home, plug into the convenience of a ChargePoint Home Flex wallbox. Safe, convenient and cost-effective, this Level 2 wallbox can be purchased from ChargePoint with installation arranged through Qmerit.
Look for the all-new, all-electric Mercedes-AMG EQS in dealerships next year.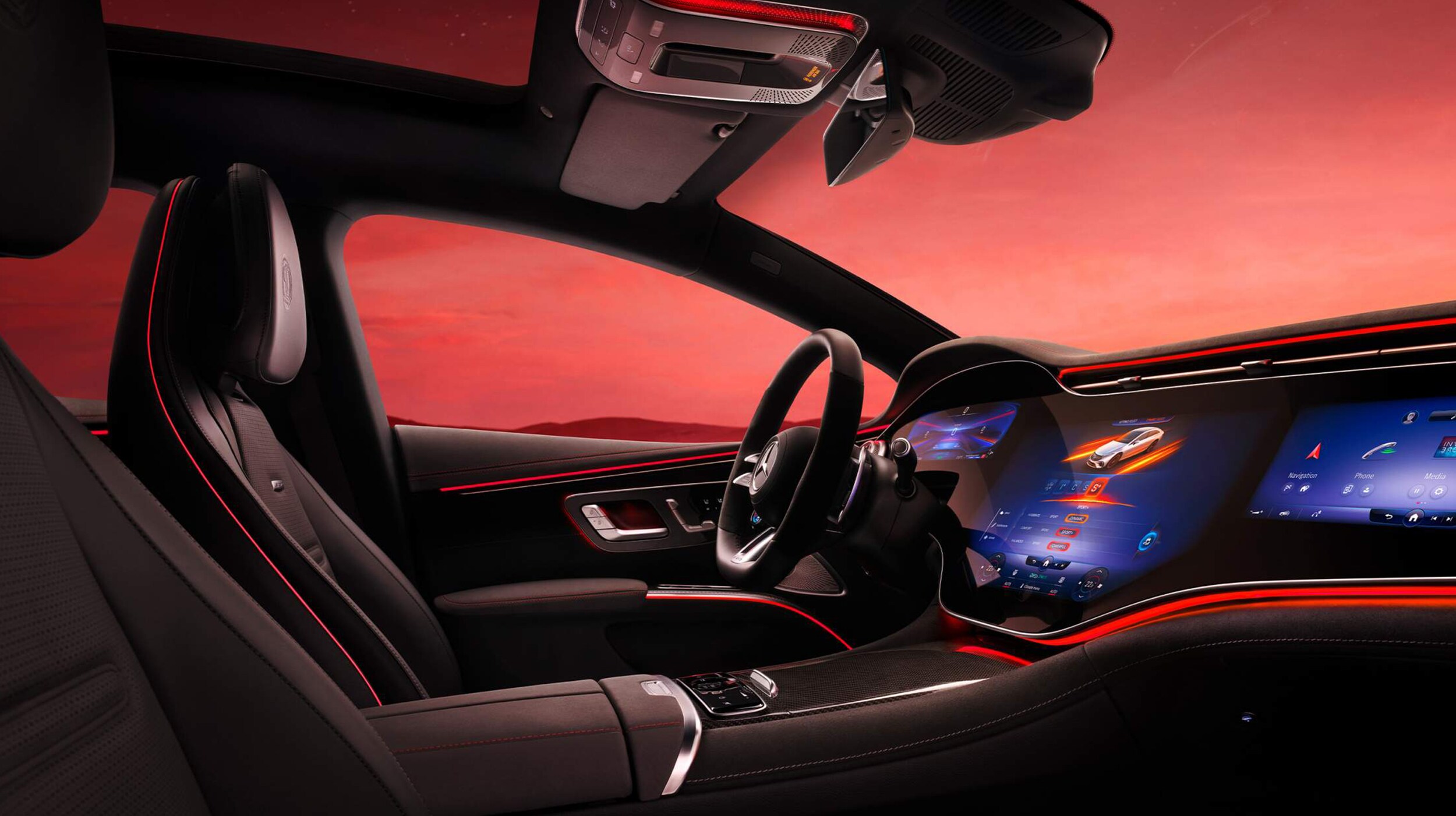 Technology and Performance
107.8 kWh battery capacity

649 hp / 751 hp (without / with AMG DYNAMIC PLUS package)[5]
700 lb-ft/752 lb-ft of torque (without/with AMG DYNAMIC PLUS package)[5]
0-60 mph est. 3.4 seconds[5]
Estimated top speed of 155 mph[3] (with standard AMG DYNAMIC PLUS package)

Rear-axel steering up to 9-degrees

AMG RIDE CONTROL+ Suspension with Adaptive Damping System 

DYNAMIC SELECT including Slippery, Comfort, Sport, Sport+ and Individual driving modes

AMG high-performance compound brake system with six-piston brake calipers and single-piston brake calipers at the rear

Driver Assistance 

Package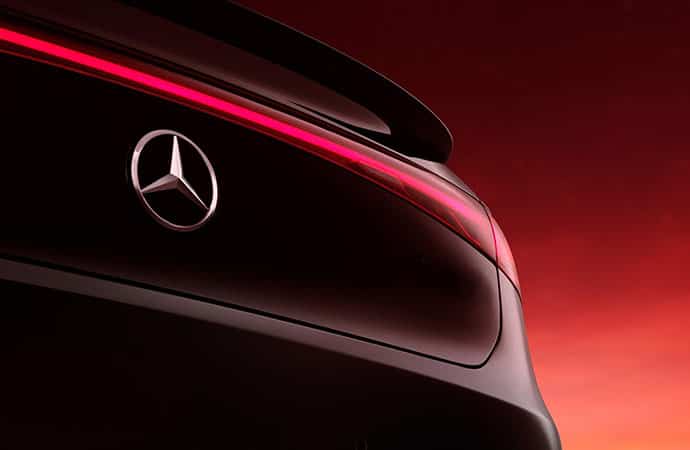 Design
New-generation MBUX Multimedia System with Augmented Reality Navigation system, including Natural Language Understanding and Keyword Activation ("Hey Mercedes")

Standard MBUX Hyperscreen with three displays under a single 56" curved glass surface:
8 CPU cores, 24 GB RAM and 46.4 GB memory

The largest display ever in a production Mercedes-Benz

Haptic feedback with a total of 12 actuators under the touchscreen surface

Supports 27 languages with Natural Language Understanding (NLU)

Personal home screen with "Zero Layer" principle

MBUX with up to 7 profiles can be activated by biometric authentication, voice control and facial recognition
Over-the-air updates

DIGITAL LIGHT with Lightband

Mercedes me charging infrastructure

EQ Public Charging infrastructure

21 or 22-inch AMG aerodynamically optimized alloy wheels
Stay Informed
Sign up for exclusive communications and be among the first to know the latest about 2022 Mercedes-AMG EQS.
How Can We Help?
* Indicates a required field
(1) As a concept car, the designs, features, etc. are subject to change.
(2) Feature is not for use on public roads or where people, animals or obstacles may be within range of the vehicle. Always obey local laws. See Operator's Manual for additional warnings and information.
(3) Obey local speed and traffic laws.
(4) Complimentary 30-minute charging sessions are included for the first two years after account activation, exclusively on the Electrify America DC charging network. Charges may apply if the vehicle occupies the charging station for more than 30 minutes, or more than 10 minutes after reaching a full charge, whichever comes first. Charging on other networks may incur fees. Electrify America is a trademark of Electrify America LLC, which is a third party not within the control of Mercedes-Benz USA, LLC. Availability of, compatibility with, and access to the network depends on Electrify America and your location. For further information and limitations, and to learn more about where Electrify America network chargers are located, visit https://www.electrifyamerica.com/locate-charger/ or contact an authorized Mercedes-Benz dealer. Benefits are not transferable to other users or subsequent owners.
(5) As a concept car, the designs, technical specifications, features, etc. are subject to change.